We are proud to announce the opening of Osborne Employment Law!  The firm's founding attorney, Quinton Osborne, represents employees in all types of employment-related disputes, including unpaid wages, wrongful termination, discrimination, retaliation, non-compete disputes, sexual harassment, unemployment, and healthcare license defense.  Click here to learn more about the firm.
This portion of the website will be dedicated to providing updates about the firm, discussing recent employment-law cases, and reviewing relevant laws and regulations.  If you have any questions or requests for blog posts, contact Osborne Employment Law.
Recent Updates in Federal Overtime Law
Earlier this year, the United States Department of Labor announced likely the most important employment-related administrative rule for 2016.  The Department of Labor is the United States agency responsible for enforcing and setting standards for many work-related areas, including wage and hour standards.  Keep in mind, Congress is notoriously bad at passing laws.  Thus, often the major employment-related "legislation" on the federal level are actually regulations created by federal agencies.  In the employment world, this usually involves the Department of Labor or the Equal Employment Opportunity Commission, both of which have the authority to create regulations related to their defined areas.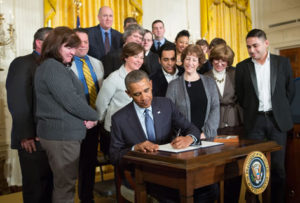 On May 18, 2016, President Obama announced publication of the Department of Labor's new long-awaited final overtime rule.  In order to be legally classified as exempt from overtime as an executive, administrative, professional, outside salesman, or computer employee, one of the three tests is that you must be paid a minimum salary.  Currently companies only need to pay employees a salary of $23,660 to meet the threshold.  However, effective December 1, 2016, the salary threshold will rise to $47, 476, more than double its current amount.
Who Does the New Rule Effect?
The new overtime rule will impact executive, administrative, professional, outside salesman, and computer employees who work over forty hours in a week and are currently paid less than $47,476.  These employees will now be entitled to an overtime rate of time-and-a-half their regular rate of pay for all hours worked over forty.
Employers have several different options to cope with the new overtime rule.  The most obvious is to keep the employee's salary the same, but start paying overtime for all hours worked over forty.  If the employer does not want to track all of the employee's hours, it can simply raise the employee's salary at or above the $47,476 salary threshold.  The employer can also choose simply to limit the workers' hours to forty per week.